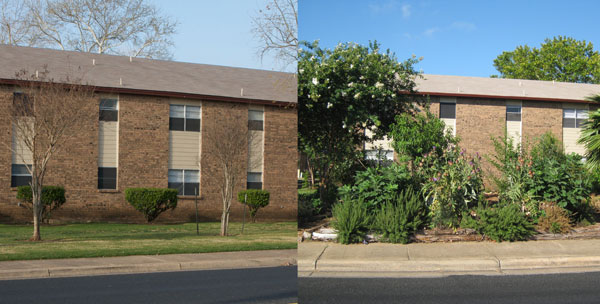 Image credit: Edible Estates Regional Prototype Garden #5, Austin, Texas. Commissioned by Arthouse. Image
credit: Fritz Haeg
This is a nice interview from the American Society of Landscape Architects with Fritz Haeg, the artist behind Edible Estates: Attack on the Front Lawn. I love his frankness about the outcomes of urban gardening and his reasoning for working with single families. His projects "...

operat[e] at the cellular level of one family, one individual. Because that's viral, it can spread, anyone can do it, and that's powerful." He goes on to talk about the less quantifiable benefits of small scale gardening (or urban farming) saying, "
For me, it comes down to pleasure and I think that's the best point of entry into big cultural shifts like this."
Amen, to that brother. The Urban Land Scouts are, I hope, a pleasurable point of entry into a shift in awareness about our immediate land. Let's hold off on trying to use urban agriculture in the same way that we use large scale agriculture and focus on the aesthetic, cultural, and peripheral benefits from the material, scale, and pace of this work.
A final shout out and source: I found this article on the facebook page for Urban Edge Studio. Thanks very much to Angelike Angelopoulos for directing me to their work!